Winter is coming... do you know what will keep you warm?

The thought of winter may invoke different memories, depending on who you are. Maybe you are someone who loves to bundle up and have a snowball fight or go and build a snowman. Maybe you want to spend the day sledding down the steepest hills you can find. Perhaps you would prefer to stay inside curled up with a toasty mug, watching everyone else. No matter what winter activity you choose, you are counting on coming home to a warm home. But what exactly is keeping your home cozy and comfortable?
Have a heating, cooling, or plumbing problem, but no time to wait for a repairman? Need a second opinion on an existing quote?
We'll give you free advice about your question or problem. In many cases, you'll get an estimate or the help you need during the video call.
Free Over-the-Phone Evaluation
Most people do not take time to think about whether their homes are heated by a furnace or a boiler. However, spending just a little bit of time considering factors like function, efficiency, and affordability of the two is important. In fact, knowing the basics of both furnaces and boilers can make all the difference for your comfort, pocketbook, and carbon footprint.
How do furnaces and boilers work?
A furnace and boiler serve the same purpose: to heat your home. A furnace accomplishes that through heating air that is distributed through the air ducts of your home using a blower motor. A boiler starts by boiling water and sends the hot water or steam through pipes that release the heat via radiators or coils.
A furnace and boiler can run on coal, electricity, or gas, and both use the same scale for heating and efficiency measurements over the course of a standard year. The measurement is known as "annual fuel utilization efficiency" (AFUE). 1 For example, and AFUE of 80% tells you that 80% of the energy in the fuel goes to heat for the home, while the remaining 20% escapes out of the chimney and/or elsewhere. A fully electric furnace or boiler will have no flue loss through a chimney, and as a result, the AFUE for an all-electric furnace or boiler comes in around 95% to 100%.2
For more specific details on topics like types of heat distribution systems, heating system maintenance, and tips for cutting heating bills, check out this Energy.gov infographic.
The pros and cons of furnaces and boilers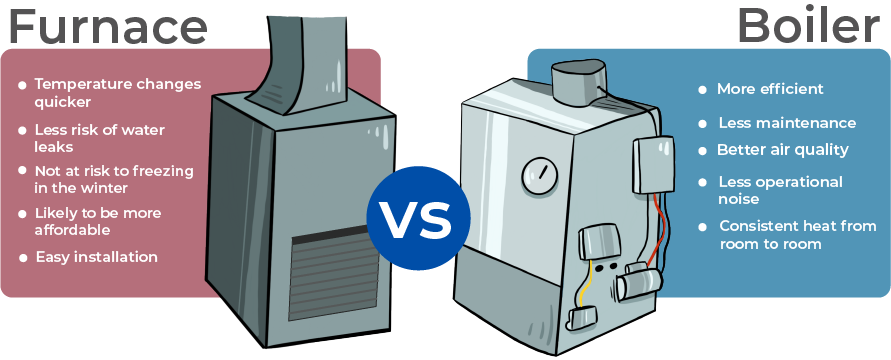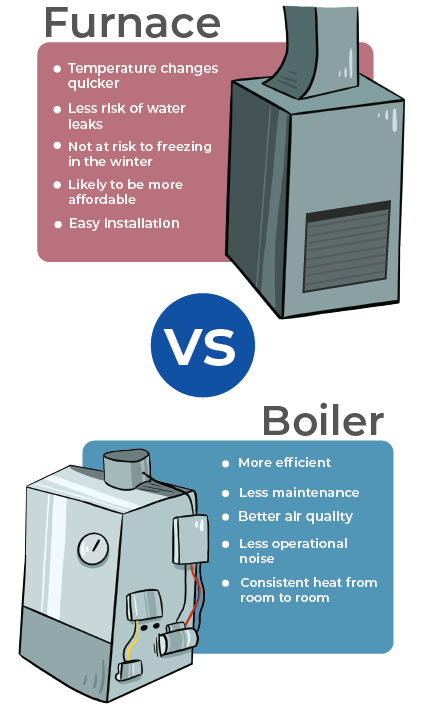 Cost
According to this Constellation article the price of furnaces and is pretty similar, with furnaces being a bit cheaper due to their commonality. The average furnace costs anywhere between $2,000 to $3,500, whereas a high-efficiency model can start at $5,000. Midrange boiler models range from $2,000 to $4,000, and high-efficiency models top out at $10,000. 3
Efficiency and Air Quality
For the most part, boilers are more efficient because it takes less fuel to heat water than it does to heat air. However, you could still find a furnace that matches a boiler's AFUE (it just might cost you a bit more). Boilers also offer better air quality because they are not blowing around air filled with dust and/or allergens. 4
Temperature Control and Consistency
Heat consistency can be a major element in your decision between a furnace and boiler. Boilers typically have more consistent heat and less operational noise. Because of this, temperatures from room to room will most likely be more controlled and similar versus rooms heated by a furnace. However, boilers take longer to adjust to temperature changes, so if you have a furnace, you are likely to feel that change quicker than you would if you had a boiler.5
Commercial Service recommends Trane furnaces, which are tested in some of the most extreme conditions found in nature. The Trane Snowball II is the nickname for the durable Climatuff® compressor at Trane's Compressor Test Lab. It is named for the block of ice it has encased itself in by running nonstop since 2000, and still is today. Trane freezes, broils, stresses, drops, shocks, exposes, and tests its furnaces to ensure they're truly unstoppable.
72-month special financing for qualifying Trane equipment
Commercial Service is proud to be your local Trane dealer. Trane products are designed, built, and rigorously tested for reliability and durability. We know they work because they are pushed well beyond the industry standards. When you own a Trane, you're getting reliable comfort and dependable quality year after year.
Trane Financing
Maintenance and Installation
Boilers are a bit less maintenance because they do not have filters that need changed. But a furnace does not risk freezing during extremely cold temperatures or power outages or suffering from water leaks like a boiler does. When it comes to installation, it can take a few days to install a boiler since they are complex systems, but furnaces can take mere hours to set up. 6
Repair or replace?
As mentioned earlier, the cost of a new furnace or boiler starts around $2,000 and can stop at $5,000 or $10,000. While this number may initially scare you, it is important to remember that space heating accounts for roughly 45% of a home's energy bill; therefore, it should make sense to splurge for that larger upfront cost to ensure that your home is running on the exact system that you want. Note that it is basically impossible to replace a boiler system with a furnace system. Adding the appropriate ductwork could be extremely expensive, and you would run the risk of losing your central air conditioning since boilers do not cool homes. 7
If it is not fiscally or physically possible to purchase a whole, new heating system, there are parts that can be relatively affordable to repair or replace. Keeping up on routine maintenance will also help your system function properly.
One thing to note is that if your furnace was installed before 1992, it is most likely obsolete. The U.S. Department of Energy mandated that furnaces have an AFUE of 80% in 2013. A furnace installed before 1992 probably means your AFUE is drastically lower, you are spending a third more money on your energy bills, and sending up to 4 tons of carbon dioxide gas into the atmosphere! 8
If you don't know your furnace's age, you can open the cabinet and look for dates, or you can write the model number for your furnace and look it up on the internet. A tell-tale sign that your furnace is too old is if it has a pilot light rather than an electric ignition.
Get a Second Opinion
Get a FREE second opinion. We provide hassle-free second opinions on a video call. Our trained technicians will help you make an informed decision that's right for your home's heating, cooling, or plumbing needs.
For additional information or to have a trained Commercial Service technician comes out and assess your HVAC system, schedule an appointment with our easy Online Scheduling or by calling 812‑339‑9114.