It's the moment you always dread—opening your monthly energy bill only to find that it increased again from last month.
Now the question is, how do you lower your bill and increase energy efficiency? That's why, Commercial Service has partnered with Trane, experts in energy efficiency and industry leaders in some of the longest-running heating and cooling equipment, to give you a brief guide and answer a few questions you might have when it is time to lower your energy bill and increase your energy efficiency.
Choose an HVAC system that is certified by Energy Star
Energy Star is the gold standard for the HVAC industry when it comes to building and distributing systems that prioritize energy and cost savings for consumers. Their website certifies that Energy Star HVAC systems will "reduce greenhouse gas emissions and other pollutants caused by the inefficient use of energy" 1 by making it simple for their customers to buy systems that offer savings "without sacrificing performance, features, and comfort." 2
For buyers that are more number-oriented, another way is to choose an HVAC system based on the "Seasonal Energy Efficiency Ratio" (SEER) 3. The EPA's minimum requirement for the SEER is a 14.5 or higher in the air conditioning and heat pump departments.
Size matters
Many factors can influence the potential savings on your energy consumption, and other than making sure your system is Energy Star-certified, selecting a system that is the right size for your home may be the most valuable decision you make. It is easy to make the assumption that an energy-efficient system and the size of the system are mutually exclusive – however, that is not the case.
An incorrectly sized system can lead to decreased energy efficiency and cost savings, an unpleasant noise as the machine cycles, and general discomfort you may feel as the system struggles to maintain the desired temperature.
What are some elements that can help determine if your system is too small or large?
Climate and location of your home.
The materials your home is built with.
The type of windows you have, and where they are located.
Your home's filtration (and leakage) of air to the outside.
The type of lights that you have installed.
Many companies, Trane included, are more than happy to investigate these aspects of your home and make a recommendation of an energy efficient HVAC system that fits your needs, literally and metaphorically!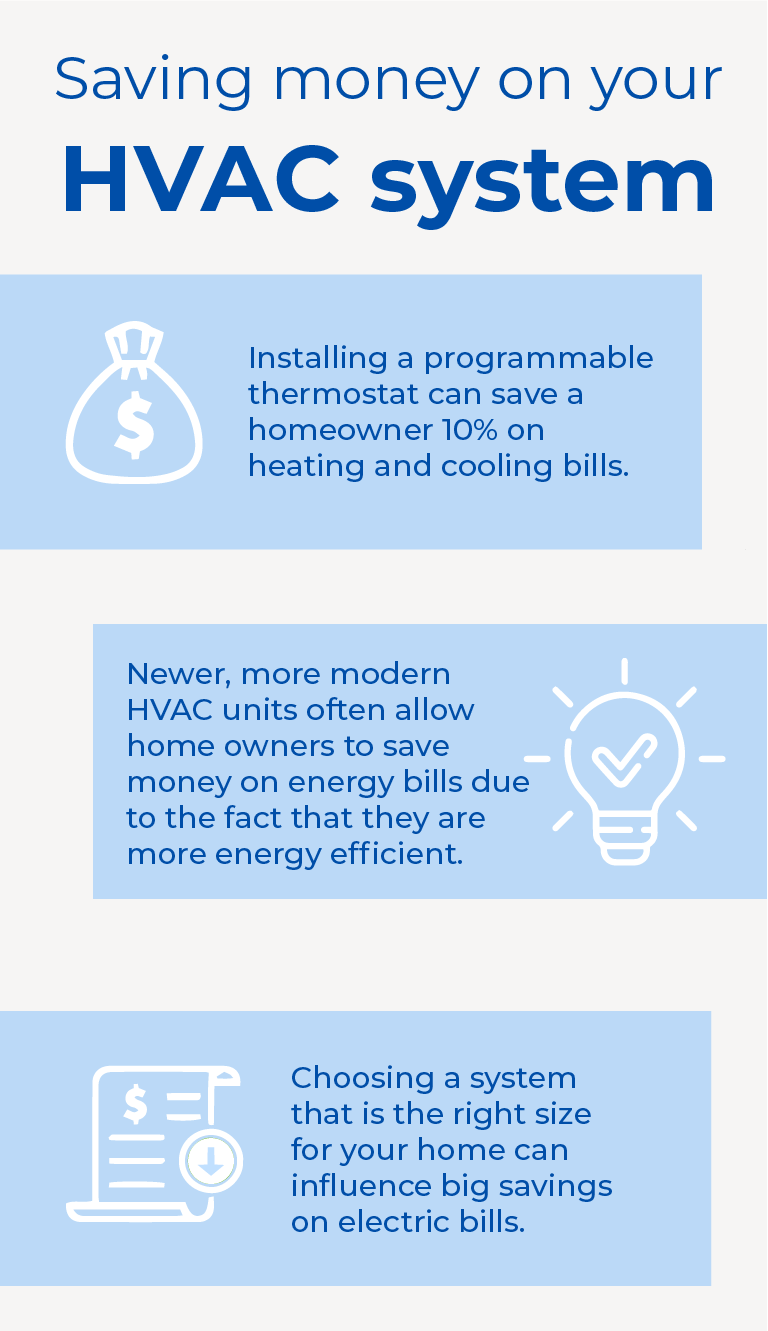 Seasonal and regular system updates
Preventative maintenance is something that everyone is familiar with, but not many people know how effective it can truly be.
Take changing the air filters in the HVAC system, for example. By changing the filters once every one to three months, you can reduce costs by 5 to 10 percent. Another benefit is that it will lead to reduced humidity, air pollutants, and allergens. Sealant is also crucial to maintain. Properly sealing your cooling and heating ducts can improve HVAC system efficiency by 20%. Your local Trane dealer can tell you if your ducts need more insulation, a type of foil tape, or blown-in sealant.
Last but not least, technology in the HVAC industry is a growing a field for good reasons. You can save a lot of energy and money by purchasing a programmable thermostat that monitors activity levels in certain parts of your home, and will then automate temperatures accordingly.
Benefits that go beyond your pocketbook and can save the world
According to a recent EPA report, household energy use makes up about 12 percent of all United States carbon dioxide and greenhouse gas emissions. The amount of emissions fluctuates yearly, but they have increased overall by about 14 percent since 1990. By reducing your personal energy consumption and utilizing more energy-efficient heating and cooling equipment, you can help reduce pollution and save money at the same time!
Get a Second Opinion
Get a FREE second opinion. We provide hassle-free second opinions on a video call. Our trained technicians will help you make an informed decision that's right for your home's heating, cooling, or plumbing needs.
Commercial Service is your local Trane dealer. To have one of our technicians assess your HVAC system, schedule an appointment with our easy Online Scheduling or by calling 812-339-9114.
Check out these related articles: Giving Your AC Some TLC and Choosing Your AC System