Have a heating, cooling, or plumbing problem, but no time to wait for a repairman? Need a second opinion on an existing quote?
We'll give you free advice about your question or problem. In many cases, you'll get an estimate or the help you need during the video call.
Free Over-the-Phone Evaluation
It is easy to grab a blanket when you get chilly, but for your plumbing... not so much!
Making sure your pipes are ready for the freezing temperatures is critical if you want to avoid potential costly plumbing repairs. Let's review how exactly to prepare your pipes for winter and keep your home's plumbing running smoothly.
How much does prepping your pipes really save you?
Most heating and cooling companies offer a maintenance cleaning and inspection package that ranges from $150-$200. Should you choose to forego any sort of maintenance and making necessary repairs, you risk incurring damage and having to foot the bill yourself, or make an insurance claim for water damage from frozen pipes. And, according to State Farm, those types of claims can reach up to and beyond $15,000.
Another example is a busted pipe; hiring a plumber to fix an easily accessible repair costs between $50-$250. Bringing a plumber in on an emergency basis to complete the same repair can boost this fee up to as much as $600.
These are just two instances where it is apparent that preparing your pipes for the cold can save you oodles of money and save your home from major damage. Below are some easy things you can do to keep your pipes running smoothly as the cold starts to set in.
Schedule Online
Commercial Service offers 24/7 emergency services and is always happy to send over a certified technician to assess any potential problems. For non-emergency repairs, schedule an appointment with our easy Online Scheduling or by calling 812-339-9114.
Four quick tasks to complete on your own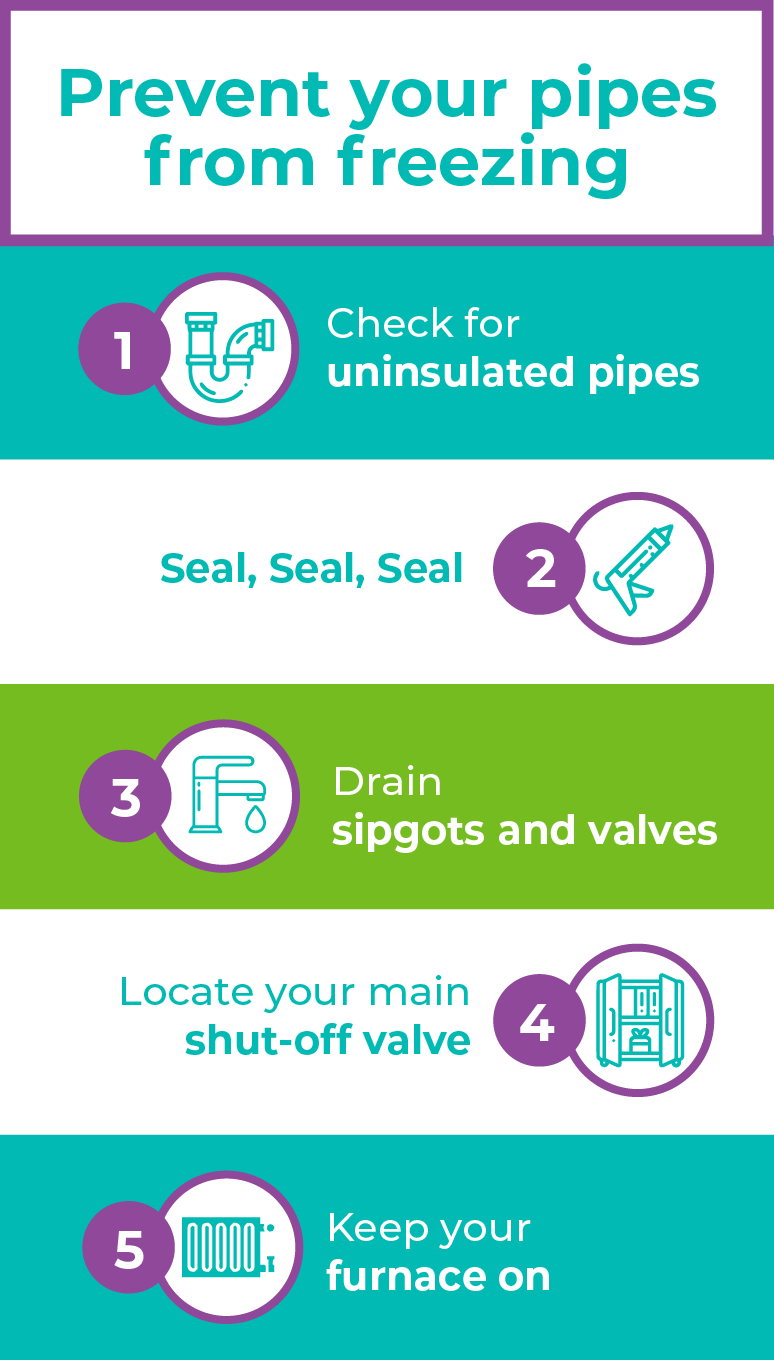 This is especially important for unheated areas like crawl spaces, basements, attics, and outside walls. Your local hardware store should have insulation sleeves you can use to wrap around pipes. Some people like to use electric heating tape, but that can pose a fire hazard and could benefit from professional assistance.
Seal, seal, seal
You cannot make it through a list of ways to prepare your home for winter without hearing about sealants. For a lower cost and little effort, sealing the cracks in walls around pipes will ensure that cold air is kept outside. Pay close attention to the areas around your cable lines and phone lines.
Drain spigots and valves
If you have outdoor hoses and irrigation systems be sure to drain them of water, disconnect them, and store them properly. You can use spray foam to insulate the opening around the hose bib that allows cold air to leak into the interior wall and freeze pipes. Water irrigation systems can get complicated, so call an irrigation specialist if you are afraid of damaging your system.
Locate your main water shut-off valve
Some people live in their homes for years without knowing exactly where their water shut-off valves are located. It is important to know where it is in the event that your pipes start to leak or burst. Most main water shut-off valves can be found in the utility room, closet, or basement.
Protip for snowbirds

winterizing their houses
If you flock to a home you own or rent in a warmer climate during the winter months, you may have been called a "snowbird" once or twice! Some snowbirds have a difficult time figuring out the best way to winterize their home's pipes during the months they are away. In a lot of cases, these people will completely shut down their homes – but this could be detrimental if even the smallest bit of water remains in the pipes. Experts advise homeowners to drain their water systems, and put antifreeze in traps and toilets, and set the furnace at 48ºF.
If you are still curious about more things you can do to maintain your pipes and get them ready for winter, check out this Kentucky American Water infographic. Also, remember that certified Commercial Service technicians are available around the clock to give you advice and/or make repairs. To schedule an appointment, do so with our easy Online Scheduling or by calling 812-339-9114.