We're talking about your pipes, not the movie.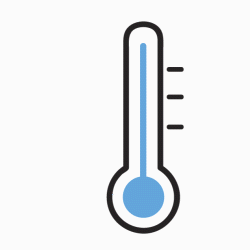 As the Midwest is knee-deep in winter, we're all feeling the effects. Around this time of year, people start to get a little bit of cabin fever, we have to add at least 15 minutes to our daily routine to clothe ourselves with tons of layers before going outside, and our homes seem to struggle to keep warm.
To prepare for the inevitable couple of cold blasts that will hit before spring (maybe even during spring since it is Indiana), we want to answer some of our frequent wintertime questions. Mainly, questions regarding what to do about frozen pipes: how do you know you have a frozen pipe, how do you find where the pipe is frozen, and how do you shut off your water once a pipe has burst?
How do you know you have a frozen pipe?
I know it may seem straightforward, but some people start getting concerned about frozen pipes as soon as the temperature starts to drop. Temperatures must be at 32 degrees Fahrenheit or below before they could start freezing.
Tell-tale signs that your pipes could be frozen:
You smell a strange odor coming from your faucets
There is little or no water coming from the faucets
You hear unusual sounds near your water fixtures
You notice the drywall is damp
If you can visually see your pipes, you can sometimes identify frost starting to form.
How do you find where the pipe is frozen?
It can be easy to get overwhelmed once you realize your pipes are probably frozen. After all, there are tons of pipes in your home. How do you know which pipe has given way to the cold? Often, frozen pipes are found in unheated parts of the home like attics, basements, and crawl spaces. Exterior walls and places where water enters the home are also places where pipes frequently freeze.
If you check these areas, and you still can't locate your frozen pipe, Commercial Service will be able to help. We even provide 24/7 emergency services for things like frozen pipes.
How do you thaw a frozen pipe?
If the pipe is located in an area that is easily accessible, there are a variety of ways to approach the thawing process. Placing a portable space heater or heat lamp near the pipe is a hands-free method to thaw your pipes. Just make sure you remove anything around your pipes that can easily catch fire! Another way to thaw your pipes is by using hot towels. Simply warm them up in the dryer and wrap them around the frozen pipes.
How do you shut off your water once a pipe has burst?
The surest way to prevent further damage to your frozen pipes is to shut off your water valve. Most main water shut-off valves can be found in the utility room, closet, or basement.
How do you prevent frozen pipes?
Prevention is key! As you start your preparations for the winter months ahead, follow these simple tips to prevent your pipes from freezing:
Insulate your pipes. This process is fairly simple; we've even created a guide on how to do so!
Open the cabinets underneath your kitchen and bathroom sinks. This helps warm air circulate around your plumbing.
Drain outdoor hoses and irrigation systems of water, disconnect, and store properly.
Always keep your thermostat above 55 degrees Fahrenheit. We consider this to be the minimum temperature to keep pipes from freezing.
Seal all air leaks in your home, which will prevent overall heat loss in your home.
On the coldest days, keep your faucets dripping. The flowing water makes your pipes less likely to freeze.
Curious about more ways to prep your home for winter? Check out our downloadable Cold Weather Prep Checklist!
For additional information or to have one of our trained service technicians come out and assess your home, call us today at 812-339-9114.
Remember, the best and most cost-effective way to keep your home in the best shape is through preventative, regular maintenance. Commercial Service offers a Platinum Maintenance Program that allows you to do just that.
Schedule Online
Commercial Service offers 24/7 emergency services and is always happy to send over a certified technician to assess any potential problems. For non-emergency repairs, schedule an appointment with our easy Online Scheduling or by calling 812-339-9114.