Nowadays there seems to be an app that can connect you to new friends, a new relationship, and even a new job. While there are a handful of applications that do indeed connect you with a contractor, how will you know if he/she will be the best fit for your budget, project, and personality? Well, have no fear, Commercial Service is here! We want to be a great wingman and give you a few tips before you go out into the world to find reliable contractors.
Have a heating, cooling, or plumbing problem, but no time to wait for a repairman? Need a second opinion on an existing quote?
We'll give you free advice about your question or problem. In many cases, you'll get an estimate or the help you need during the video call.
Free Over-the-Phone Evaluation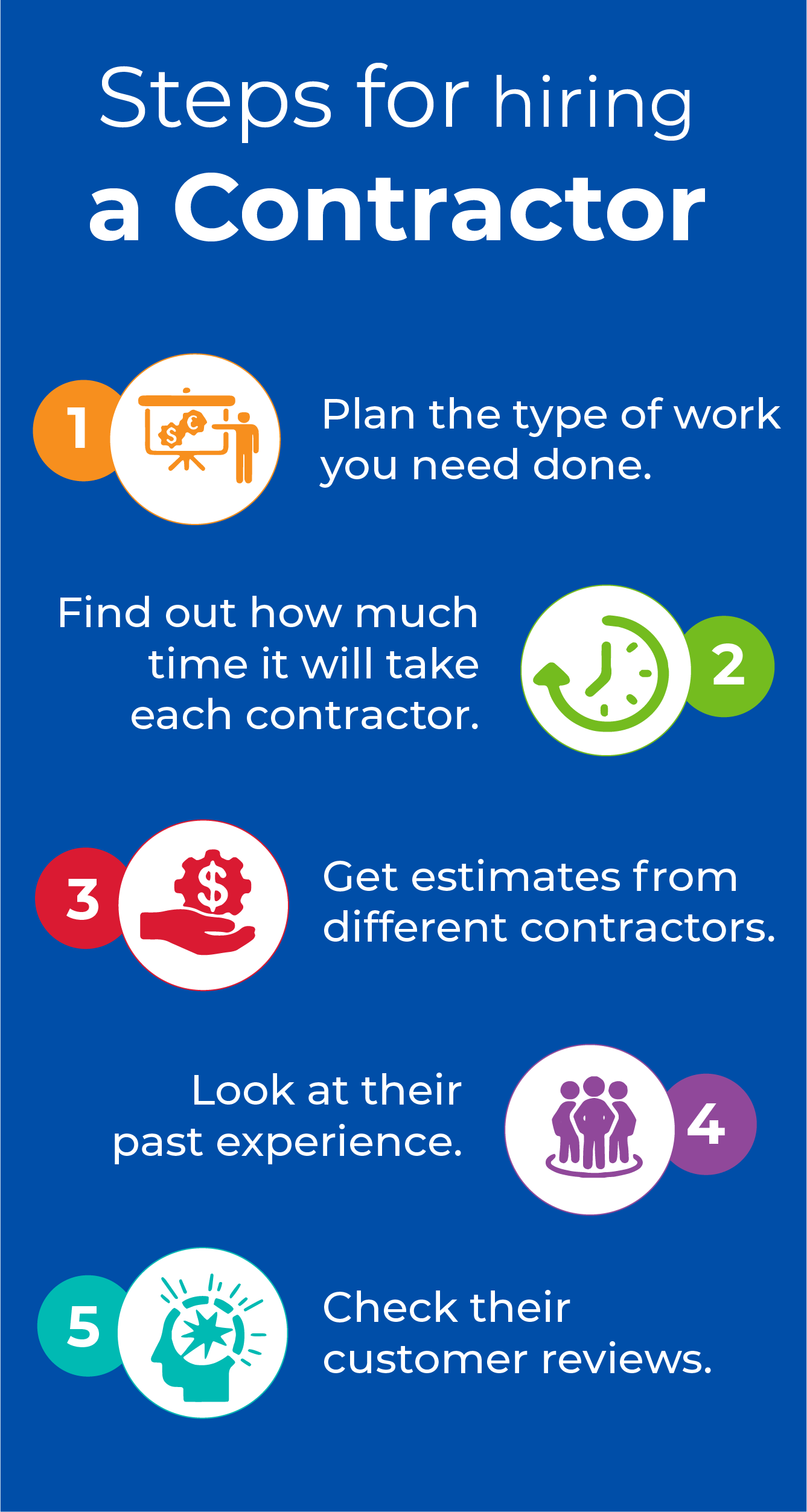 Do your research
It seems like a given, but we cannot stress enough how crucial it is to ask your friends/family if they have a reliable contractor they use. Not only will you get an unfiltered review of the contractor, but you may even have the potential to see the contractor's work in person. Despite receiving a five-star referral, you should still line up three candidates. If you are having trouble getting recommendations from those you know, turn to the internet.
In today's world, it is commonplace to meet someone online before meeting them in person; and before a meeting takes place, you are sure to do a little research online (while trying not to "like" any pictures from 2009)! Let this same principle guide you on your search for finding contractors. Cross-reference any reputable candidates on trusted platforms like the ones listed here.
Use this resource to check for complaints against the individual or the company they are employed at and see if any disputes have been resolved to everyone's satisfaction.
These digital communities are a trove of peoples' opinions on contractors' work and reliability. If you choose to check out a site like this, be sure you visit multiple sites, not just one.
Hardware and lumber store managers
Local businesspeople are hidden gems when it comes to finding good contractors. They have a behind-the-scenes view, and can tell you who gets jobs done, and who may be the best fit based on the job and the personality.
Schedule Online
Commercial Service offers 24/7 emergency services and is always happy to send over a certified technician to assess any potential problems. For non-emergency repairs, schedule an appointment with our easy Online Scheduling or by calling 812-339-9114.
Ask questions
Once you have narrowed down your list, you should ask your top contenders a few questions. Good contractors should welcome these, and potentially offer up even more information. Angie's List, another crowd-sourced review site, has a brief question list; feel free to go through all of them, or select the few that you feel are most important to you.
1. Do you have a headquarters?
You should choose a contractor that operates from a permanent place of business.
2. Is the company insured, and what are the coverage limits?
Make sure the contractor has workers' compensation and general liability insurance to safeguard against accidents on the job. It is not out of line to ask for copies of their policy so that you may keep it for your personal file.
3. Is the company in good standing with a trade association?
4. How long has the contractor/company been in business?
A contractor that has been with a well-established company for a longer period of time is probably a safer bet than an overnight success.
5. What is the contractor's complaint-to-resolution record?
6. Does the company provide sufficient details for the project being performed?
All of the above questions will obviously help you decipher the reputation and quality of your contractor, but you should not be afraid to ask personable questions, either. You might not be interacting with your contractor on an hourly basis, but if you will be seeing them frequently, it is good to find out things like their scheduling preferences, or if they prefer to work later or earlier. Finding out their communication preference can go a long way, especially on bigger and/or complicated projects.
Keep records
Being organized can save you a lot of strife and time in the long run. Be sure to keep all paperwork related to your project – from beginning and planning stages to completion. Examples of materials to keep are: contract(s), change orders, correspondence, payment receipts, communication details, and even photographs as the job progresses.
Pay wisely
Do not make the final payment or sign an affidavit of final release until you are satisfied. Besides being satisfied with the work, you also need to know that subcontractors and suppliers have been paid. Laws in your state might allow them to file a mechanic's lien against your home to satisfy their unpaid bills. Protect yourself by asking the contractor, and every subcontractor and supplier, for a lien release or lien waiver.
Use a sign-off checklist
Before you sign off and make the final payment check that all work meets the standards spelled out in the contract, you have written warranties for materials and workmanship, you have proof that all subcontractors and suppliers have been paid, the job site has been cleaned up and cleared, and that you have inspected and approved the completed work.
If you're in need of HVAC and/or plumbing maintenance or repairs, schedule an appointment with our easy Online Scheduling or by calling 812-339-9114.