A faulty sink sprayer is not a life-threatening problem, but it is definitely an inconvenience, and if left unattended can damage the rest of your sink unit. An erratic or leaking sprayer is something that you can repair, but do not be ashamed to call a Commercial Service technician to ensure the repair is completed properly. Before you dive in and start taking everything apart, though, be sure you know exactly what the root of the problem is.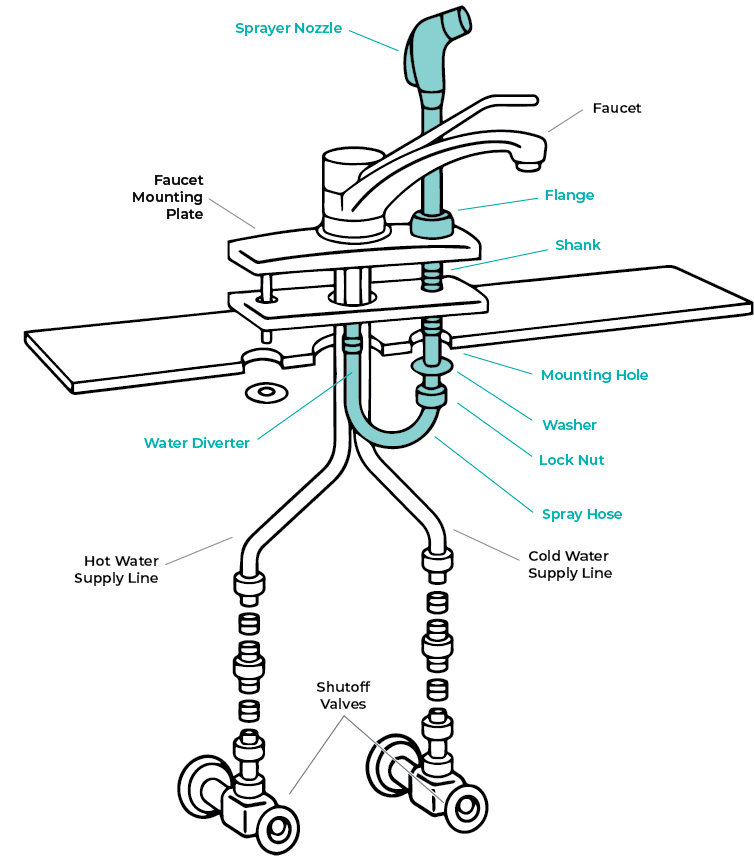 Misbehaving diverter
Inside of your faucet is an element called a diverter, which is what directs water from your faucet to the sprayer after you hold the spray head's trigger. Signs of it messing up include very little water coming out when you use the sprayer, water continuing to come out of the faucet when you use the sprayer, and the sprayer pulsating during use. Often times a diverter needs a bit of light scrubbing with a toothbrush and a good rinse, but because it can be tricky to get to, you may just prefer to just completely replace your diverter.
Diverter styles and removal procedures vary greatly. Some are small valves, while others are larger cylinders that may not even look like a valve. A decent amount of new diverters are not even inside of the faucet, but are instead connected to the sprayer hose below. Therefore, the first step of replacing or repairing your diverter is to find a manual of your sink.
Schedule Online
Commercial Service offers 24/7 emergency services and is always happy to send over a certified technician to assess any potential problems. For non-emergency repairs, schedule an appointment with our easy Online Scheduling or by calling 812-339-9114.
Faulty spray head
Before replacing your whole sprayer system in general, consider that it may only be the spray head itself that is causing trouble. To test this, pull out the spray head, and make sure the slide nut is tightly screwed into the spray head. Squeeze the trigger and see if any water leaks out; if some does, remove the spray head and slide nut. Turn on the faucet and look for leaks around the crimp sleeve. If you do see water leaking out around the crimp sleeve, it is time to replace both the hose and the sprayer head.
Connections leak
If you inspect the sprayer head and cannot find a leak, go under the faucet with a flashlight and examine the connection. If you see a leak down there, attempt to tighten the connection. If this does not solve the issue, you need to replace the hose.
Replacing the hose
When you go to the hardware store for a new sprayer system, you will find that most, if not all, hoses come with a new sprayer head. The majority of spray heads and hoses are interchangeable parts, but you may run across heads and hoses that connect differently. However, these kits should also include an adapter to make installation easier. Also, do not forget to pick up a roll of pipe-thread tape to wrap the threads before you connect a new hose.
At the end of the day, the best person to help you with leaks and plumbing issues is a certified Commercial Service technician. If you have repairs or replacements that need taken care of, call today at 812-399-9114.