Your garbage disposal can be your best friend or worst enemy. When the system is functioning properly, it makes cleaning up after meals a breeze, but if find your garbage disposal not working, you may experience bad odor, leftover residue, and grating noises as you try to use it. Finding out what the specific issue is can help you find a solution, as well as save time and potentially money if you choose to repair it yourself. At the end of the day, though, if you do not feel comfortable attempting to repair your garbage disposal problems on your own, call a trained Commercial Service technician anytime.
Have a heating, cooling, or plumbing problem, but no time to wait for a repairman? Need a second opinion on an existing quote?
We'll give you free advice about your question or problem. In many cases, you'll get an estimate or the help you need during the video call.
Free Over-the-Phone Evaluation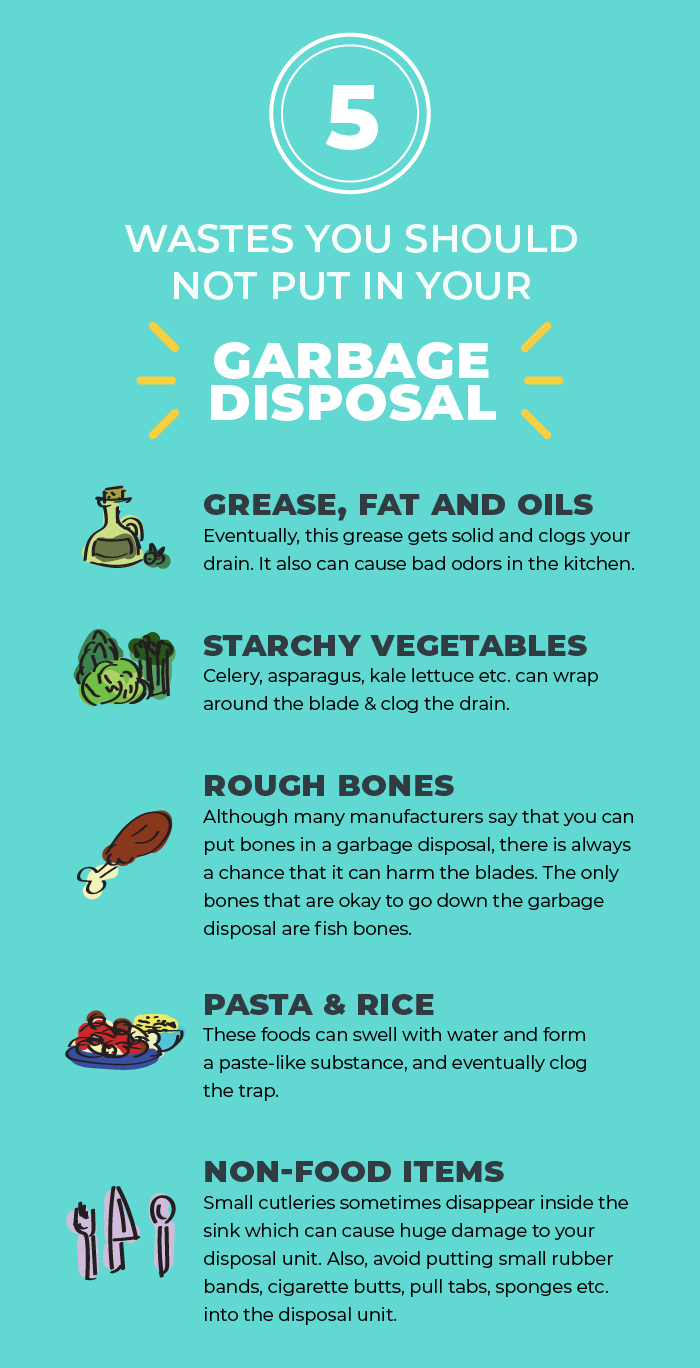 Common problem #1: Clogs
Certain foods and other household items may cause clog up your garbage disposal. Our blog, How to Unclog a Drain has more in-depth information and tips that may be very helpful when it comes to unclogging your drain or garbage disposal. To unclog garbage disposals specifically, Commercial Service recommends:
Be sure your disposal is turned off.
Use a flashlight to look down the drain, and see if you can get rid of any food that may be blocking the passage. If it happens to be something like a ring, it is best to call Commercial Service, so as not to risk damaging your system or item. If you find a significant amount of blockage, it may be best to use a sink plunger.
* Remember to use chemicals cautiously. Some drain cleaners are way too harsh, and can actually cause more harm than good. However, there are some mild drain cleaners you can utilize if manual cleaning has not done any good. For suggestions on what chemicals should be used, speak with a Commercial Service technician.
Common problem #2: Dirty and/or smelly
An upside of this garbage disposal problem is that it is relatively inexpensive and easier to do – you just might get a little dirty! There are two parts to keep in mind when addressing this problem.
How to clean the drain:
Pour a half cup of baking soda into the drain, followed by a cup of white distilled vinegar (heated in the microwave), and make sure it foams and sits for a few minutes. Following that, pour a quart of boiling water down the disposal to flush everything down the drain.
Cut up a lemon, or use lemon peels, and feed them through a running disposal.
Run Bio-Clean down the drain. Bio-Clean is a blend of natural enzymes and bacteria that eat accumulated waste.
How to clean the garbage disposal splash guard:
Cleaning the rubber splash guard takes a bit more work, but it is worth the effort. The slime and gunk that accumulates on the underside of the splash guard is a major source of odors, and a breeding ground for bacteria. To tackle this area, you should protect yourself with rubber gloves.
To clean removable splash guards, remove the splash guard and then scrub the top and bottom of the rubber guard with a toothbrush and soapy water. Rinse the guard off and put it back in place.
To clean a non-removable splash guard, scrub the top side of the guard with soapy water, and then lift up each rubber section at a time, cleaning them off as well.
Common problem #3: Broken disposal
While plenty of instructional articles and videos are available online, repairing your disposal can take time, money, and can even cause further damage if they are done incorrectly. If unclogging and cleaning your disposal are not seeming to work, it is best to reach out to Commercial Service.
If you have additional concerns about your garbage disposal, schedule an appointment with our easy Online Scheduling or by calling 812-339-9114.